Ensemble Adelchis was founded at the opportunity of Alessandro Manzoni's bicentenarial anniversary. At Sforza Castle, Milano, the Municipality set up the exhibition "Adelchis, dai Longobardi ai Carolingi", under the supervision of Arch. C. Calderini. The Head of the Culture Department of Milano Municipality charged Giovanna Motta with transcribing the lament for the death of the late Longobard Duke of Friuli, composed by Bishop Paolino d'Aquileia in 799, on the basis of the original notation. The resulting lament was recorded and used as background for the exhibitions held in Milano and Pavia. From the very few elements of these performances, say ine voice, one rebeck, one harp, as time went by the Ensemble Adelchis grew to its present formation. Althought relatively recently formed, the Ensemble Adelchis has already successfully performed before competent audiciens, such as Pavia's University, on the occasion of the 9th Anniversary of Lanfranco da Pavia' death; Foundation "G.Cini" in Venice; Medieval Weeks at Brisighella; Associazione Internazionale di studi di Canto Gregoriano in Cremona; Centro Italiano di Studi sull'Alto Medioevo in Spoleto.
---
Instruments:
Harps, Psaltery, Crwth and Wood Percussions made by M° Sangineto, Villasanta, Italy
Vielle and Rebeck made by M° B. Ellis, U.K.
Bowed Crwth made by M° A. Maggi, Cremona, Italy
Copies of a XV century clavichord and a XVI century Harpsichord
---
(alphabetical order)
They played and sung with us
DONATELLA BRUNELLI
MARCO ELISETTI
DIEGO FRIDMAN
MIRKO GUADAGNINI
ROBERTA INVERNIZZI
ROBERTO PALMA
IVAN PELA'
GIUSTO PIO
STEFANO PIO
GIOVANNI TARASCONI
MARINA VACCARINI
voce recitante
CORRADO TEDESCHI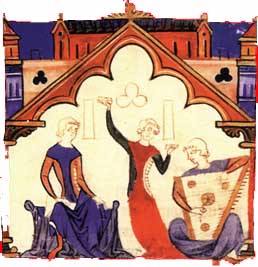 Imagines of "Lyra di Leonardo"